Weighing and Monitoring Systems
Tracking Operations Has Never Been Easier
Trimble payload weighing systems use proprietary technology to achieve accurate weighing to ± 3% margin of error with no disruption to operations. This dynamic system ensures bucket-by-bucket optimization of the load-out process. Track tons per hour, cycle times, and total tonnage moved by excavators and trucks to understand project progress to plan. And when payload is combined with equipment inspection software and equipment monitoring solutions, tracking operations has never been easier.
For a full list of Weighing and Monitoring Systems, please visit the Trimble LOADRITE website.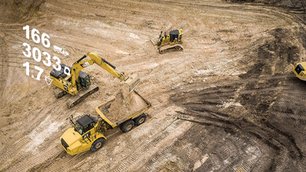 Trimble LOADRITE Payload Management for Trimble Earthworks Grade Control Platform

Maximize your machine control investment with integrated payload management. Track how much weight is in each bucket and how much weight has been added to a cycle.
Trimble LOADRITE X2350 Payload System

Half-full or half-empty, if your haul trucks aren't carrying their optimized load you're probably wasting money. With the X2350 on your excavator, you'll know exactly how much material is loaded in the truck, and you'll minimize costs and cycles to haul it away.
Trimble LOADRITE L3180 SmartScale for Wheel Loaders

The new L3180 SmartScale for loaders adjusts for rough terrain, technique, and movement so new and skilled operator can load accurately with confidence and speed.